We believe that we are stewards of the land for the next generation of our family. We consistently upgrade our facilities at the ranch and are developing improved pastures. Our Red Brangus and Black Brangus Cattle are maintained in a forage based environment all year round and are fed hay and some supplements during hard Winter months.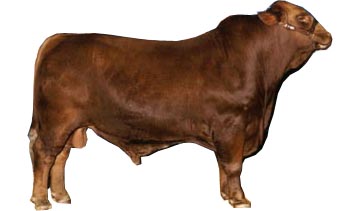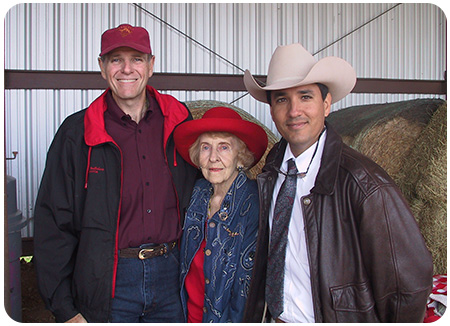 When we established our breeding program for Red Brangus and Black Brangus Cattle we set a goal of producing sound, functional breeding stock for Commercial Cattlemen. We concentrate on producing Bulls that are heavy muscled, have clean sheaths, and correct frames. Our Red Brangus Females are fertile, calve easily and have excellent milking ability. The calves inherit these traits and we offer them for sale to Registered and Commercial Breeders, to improve their herds.
At left is Bruce Buffaloe, Vice President and Secretary of the International Red Brangus Breeders Association, Wilma Buffaloe and Marcos Borges, President of the IRBBA. This photo was taken at the Annual Meeting of the IRBBA which was held at the ranch at Nursery, Texas in April 2005.
Our ranch is located on US Highway 87 North, at Nursery, Texas.  Nursery is 10 miles north of Victoria, Texas on the Gulf Coast.  Victoria is 120 miles southwest of Houston, 110 miles southeast of San Antonio and 90 miles northeast of Corpus Christi.
We also have cattle pastured at our Schulenburg, Texas ranch.